Tent Buying Guide
Whether you're going camping for a weekend with the family or on a month-long backwoods adventure, the right tent can make all the difference between fun and frustration.
The information on these pages will help you answer some basic questions you need to consider before you buy a tent. It also will help you understand the different tent styles, and includes information on tent features that can help you stay dry and comfortable.
Basic Questions
There are a few simple questions you need to consider before looking at tents. Knowing the answers will help you quickly narrow the field, so you can spend more time looking at the styles and features that will make a real difference in your camping adventure.
How Many Campers Will Sleep in the Tent?
As a general rule, it's wise to buy a tent rated for 2 people more than will actually sleep in it. A 2-person tent will sleep 2 adults, but it won't include much room to move around or store gear—a 4-person tent would be better suited to give you room for yourselves and your gear.
If you'll have a bigger group, you'll need more space, so look for tents with vestibules and screen houses. For extra privacy, look at 2-room tents that divide the sleeping area. Most tents will show the tent floor plan and maximum sleeping configuration right on the packaging.

Tent Styles
There are two elements that can be used to describe a tent's style: its shape and how it is set up. While the two are related, don't expect one shape of tent to always set up the same way.
Cabin vs. Dome tents: Most tents are either of these two traditional styles.
Dome tents can often be easier to set up but are generally lower profile. While they have less headroom than Cabin tents, a low profile makes Dome tents sturdy and stronger in high winds.
Cabin tents generally have walls that are vertical rather than sloped, providing more headroom—often enough to stand up. This also makes them easier to get in and out of. Family cabin-style tents may also have built-in vestibules, screenrooms or storage space.
Setting up Your Tent
While most tents are pretty straightforward to set up, some may require more than one person. Always be sure to read the Owner's Manual before setting up the tent to ensure a smooth setup and to avoid damaging the tent.
It's a good idea to do a practice run at home before taking your tent out for the first time. Not only will this help familiarize you with the process, but it will allow you to inspect your tent for any issues or missing parts before your trip.
Look for these additional features that can make tent setup even easier:
Tent Features
Tents can include several features in how it is assembled and finished. Many of these features affect how well you'll be protected from the elements. Other thoughtful features can add a little more civilization to your camping trip.
Water-resistant coating - Tent fabrics are generally a polyester material coated with a polyurethane coating (PU) to allow for water resistance while allowing breathability. You may see numbers on some tents such as 600mm PU coating or 800mm coating. Basically, the higher the number, the greater the water resistance and rain protection.
Taped seams - In theory, anywhere there is a seam or a stitch hole, there is the possibility for water to seep through. A taped seam is coated or "taped" with additional waterproof material to prevent water from leaking through the seams. For tents that do not have taped seams, you can purchase and apply a Seam Sealer to interior seams for extra protection.
Welded floors - A woven tarpaulin style floor (polyethylene) stitched to a tent faces the same challenge as other seams—where there is a seam or stitch holes, water could potentially leak in. Tents with welded floors have seams that have been "heat welded" together instead, eliminating stitch holes and possible leak points. Some premium tents may have nylon floors which are water resistant, softer to the touch, lightweight and easily compactable.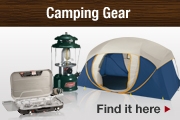 Related Buying Guides
Related Tools