Vacuums Buying Guide
A vacuum cleaner is indispensable for keeping your home's carpets and rugs clean. They suck up dust, dirt and pet hair from carpets and floors, and many include special attachments to make cleaning tight areas a breeze.
It's common for families to have two of these versatile machines – a primary one for cleaning large areas, plus a convenient compact unit for smaller tasks. This guide explains the different vacuum cleaner styles and their benefits. You'll learn about the collection methods that capture dirt and dust, plus information on filtration systems. If you are still finding it a challenge to choose, our questions to consider before buying will help you narrow the field when choosing a vacuum cleaner.
Vacuum Cleaner Styles
There are four types of vacuum cleaners designed for use around the home:
In general, if your home has carpeting or several area rugs, you will need an upright or canister vacuum. Robotic vacuums can maintain up to four rooms, depending on the model. Stick and hand vacuums are convenient for taking on smaller jobs or awkward spaces.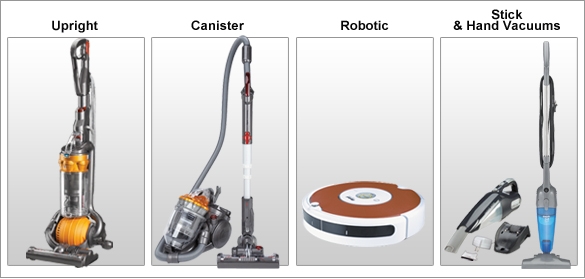 Upright Vacuums - These heavy-duty vacuums are tall, single-piece units that manoeuvre on wheels, rollers or swivel casters. Long cords make it simple to vacuum large areas without having to switch electrical outlets. Upright vacuums are an ideal choice for households with a lot of carpeted areas.
The added feature of a detachable hose or extension wand will give your upright vacuum additional versatility, allowing you to use attachments such as crevice tools, dusting brushes or combination tools and upholstery wands. Some models also offer dual-edge cleaning to clean along the baseboards, walls and other vertical surfaces easily.
Canister Vacuums - If your home has both area rugs and bare floors, or plenty of stairs, a canister vacuum may be better suited to your home. They are excellent on bare, wood and tiled floors. If you'll be using the vacuum on rugs and carpet, you'll need one that includes a rotating brush in order to clean effectively.
Depending on the make and model, canister vacuums are generally more lightweight than most upright vacuums and are suited for medium- to heavy-duty cleaning. The cleaning head and brush are attached to the vacuum canister with a long handle and hose. The canister houses the motor, dirt collection chamber, filtration system and a retractable power cord.
Since you are mainly manoeuvring the vacuum head and handle, a canister vacuum may take less effort to operate than an upright. The hose makes it possible to easily reach under furniture and other tight spots when cleaning.
These vacuums also come with many accessories, commonly including a crevice tool, dusting brush, extension wand, furniture nozzle and sometimes a turbo/pet brush for stairs and upholstery, as well as separate heads for hard surfaces and rugs.
Robotic vacuums - Just press a button and this self-propelled vacuum will start moving around your home vacuuming the entire floor before returning to home base to recharge. Some models of robotic vacuum will even clean your home on a pre-programmed schedule.
Robotic vacuums are ideal as a primary vacuum for apartments or condos, or as a secondary vacuum for larger spaces. They are also ideal for maintaining clean floors between major cleanups.
These cordless rechargeable vacuums are designed to clean 2 to 4 rooms, depending on the model. Robotic vacuums use sensors to navigate around the area to be vacuumed. It can detect obstacles such as furniture and stairs, and automatically adjusts from carpeted to hard floor surfaces. They reach under furniture, so spaces like under the bed and couch get cleaned. However, because a robotic vacuum operates on its own without supervision, you must be sure there are no obstacles or cords that the robotic vacuum may get caught up on while vacuuming. Most robotic vacuums include virtual walls to restrict the vacuum from venturing into off-limit areas.
Stick and hand vacuums - These light duty vacuums are smaller than other vacuums and generally use collection cups instead of bags.
Stick vacuums have a long, narrow, rectangular base with a thin vertical housing which makes them ideal for cleaning hard-to-reach areas. They are suitable for small carpets and bare floors, and can clean carpets or area rugs if equipped with a rotating power head. Many are cordless, which makes them convenient for quick pick-ups of dry spills or tracked in dirt. Certain models include a crevice tool, dust brush or flex hose, and some even convert into a hand vacuum.
Hand vacuums or "handvacs" are not as powerful as full size vacuums, but their compact size makes them handy for quick clean ups in awkward spaces like removing pet hair from furniture or cleaning car upholstery. Some models are available as wet/dry vacs making them perfect for taking on small spills. Look for crevice tools, turbo brushes and extendible hoses for added versatility. Many are cordless, adding to their convenience.
Collection Methods
Vacuum cleaners use one of two types of chambers to collect dirt, dust and pollen:
Bagged - These collection systems use disposable bags made of paper or nylon-enforced paper. Air is forced through the bag, trapping dust and dirt particles, and allowing the air to escape. Many consumers prefer paper bags rather than nylon bags, because of their convenience and lower cost. However, the HEPA bags available for some models will provide an added level of filtration and protection. This is especially relevant for those suffering from dust allergies or asthma.
While bagged models have the expense of replacement bags, the dirt, dust and hair remains contained in the bag for disposal, avoiding the potential mess and dust of emptying a canister.
Vacuum Filtration Systems
With increasing air pollution, allergies and asthma, many people are becoming increasingly aware of air quality. Your vacuum filters the air as it passes through the machine, removing dust and in some cases allergens and particulate. The filtration system and the number of stages in the filtration process varies by type and make of vacuum.
Bag Filtration - Bags filter air the same way they trap dirt and dust—they rely on the tightness of the woven material and the density of the paper. In bag filtration, you can find standard nylon bags, HEPA-Media, HEPA-Type and Allergen bags. All these bags filter out a certain amount of dust, dirt and pollen.
HEPA Filtration - HEPA is the acronym for High Efficiency Particulate Air and refers strictly to filtration as the air is exhausted from the vacuum. True HEPA vacuums are sealed to ensure all air passes through the filter, so that the level of filtration meets HEPA standards.
True HEPA filtration vacuums will capture and remove 99.97% of particles from the air that are smaller than one millionth of a metre. This level of filtration is able to remove fine particles such as dust mites and pollen. HEPA filters are made of thin glass fibres that are converted into a very high-density paper. The paper is then tightly pleated into a dense filter permitting the filtering of a significant volume of air.
Questions to Consider Before you Buy a Vacuum Cleaner
A new vacuum could be a significant investment, especially if you're considering one of the higher-end models. You'll want to make sure that you are familiar with the capabilities and features of different vacuums before you make up your mind. The list of following questions will help you narrow down your choice:
Do I already own an upright or canister vacuum?
The choice between upright and canister vacuums often comes down to personal preference.
Will this be my main vacuum or a secondary vacuum?
If this will be your primary vacuum, you should most likely be looking for a full size upright or canister vacuum. For secondary vacuums, consider a stick or a hand vacuum, depending on how you'll use it.

Related Buying Guides