Drill Bits Buying Guide
What are you drilling into?
No matter what task you're trying to tackle, the right tool for the right job is essential, and drilling is no exception. The bit you use will vary depending on what type of material you are drilling into. Canadian Tire makes it easy to find the right drill bit, router bit or hole saw for the job you need to do.
Drill bits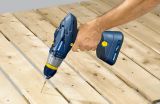 Metal/Wood/Plastic
High-speed-steel (HSS) drill bit:
Good general-purpose drill bit with a 135° split point tip that helps the drill start right on contact. These bits have three flat sides on the shank to ensure a snug grip in the drill chuck.

Black Oxide drill bit:
Great for general purpose drilling. 135° split point tip helps the drill start
right on contact. These bits are capable of lasting twice as long as conventional HSS bits.

Titanium-coated drill bits:
Titanium-coating reduces friction on the drilling surfaces, which allows the drill to run cooler. These bits can also last six times longer than HSS drill bits.

Zirconium-coated drill bit:
Zirconium coating gives the drill bit a smooth, hard finish, which reduces friction and extends service life.

Cobalt drill bit:
Built to be exceptionally strong premium drill bits. Cobalt drill bits can withstand the heat of drilling into hard materials such as stainless steel.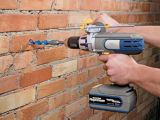 Masonry
Rotary drill bit:
Rotary drill bits feature carbide-tips, which provide the durability and strength to drill into concrete, cement, brick and stone without damaging or significantly reducing sharpness.

Percussion drill bit:
Percussion drill bits are specially designed to take advantage of the hammering function on hammer and percussion drills, without causing damage to the bit or hammer drill. This design allows for easy penetration of concrete, brick and stone
Brad point drill bits:
Features a centre spur and a two shoulder cutting spurs, which carve an exceptionally clean hole into wood surfaces.

Spade bit:
Used to drill large holes fast into wood where only a rough finish is required.

Auger bit:
A robust bit made for deep, large diameter holes in thick pieces of wood.

Fostner bit:
Designed for drilling smooth accurate holes, including flat bottom holes. Bits are titanium-coated to keep the bit sharper for longer periods of time and to reduce burning.
Carbide spear point drill bit:
Designed for easy penetration into non-tempered glass, mirror and ceramic. These bits can be used with cutting fluid to reduce the chance of the material cracking or breaking.

Diamond-coated drill bit:
Designed for easier drilling into glass, tile, porcelain, granite, slate and marble. For best results, these should be used with the included Water Distribution System, (WDS) to keep the bit lubricated and avoid cracking the material surface.
Designed for cutting round holes into a variety of surfaces, these saws come in several styles for different uses:
Carbon steel: Designed for cutting into wood.
Bi-metal: Can be used for drilling into wood and metal. Capable of 1" cutting depth.
Carbide grit edge: Designed for drilling into glass and tile surfaces.
Choosing a proper router bit is essential to have your project turn out the way you'd like. Canadian Tire has all the bits you'll need for your project. By following the steps below, you'll be able properly pick the bit you need for your task.
Step 1 – Choose the Right Shank Size:
Choosing the appropriate shank size depends on the maximum shank your router will accept and the complexity of the job you'd like to complete. Consult your router specifications when choosing an appropriate shank size.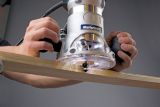 Step 2 – Pick the Appropriate Tip:
Tungsten carbide tips provide a long service life: A double flute design and ball bearing pilot guides help eliminate scorching. Tungsten carbide with Titanium: Titanium carbide tips are more durable and stay sharp longer than standard carbide-tipped bits.
Step 3 Make Sure You Have the Profiles You'll Need:
Straight, spiral and trim bits: Straight or up-spiral bits for plunge cuts; mortising or down-spiral bits for smooth surface cuts; trim bits for countertops and template work.
Grooving bits: Designed for cutting straight, "V", keyhole or rounded grooves to the material.
Edge treatment: Can be used to add decorative edges to material. For example: round nose, cove, Roman ogee, corner rounding and chamfer bits.
Joinery bits: Intended for precision box joints, finger joints, dovetails, mitre joints, etc. Examples include dovetail and rabbeting bits.
Sets: The best way to be prepared for any type of job you may want to do is to have a router bit set.