Sleeping Bag Buying Guide

A good sleep can make all the difference. Before you choose a sleeping bag, it's worthwhile getting to understand that fill, shape, liners, seams and zipper style can all make a difference in your sleeping experience.
This buying guide will help you consider the questions you need to ask yourself before buying a sleeping bag. It also will help you understand why sleeping bags come in different shapes, and includes information on sleeping bag features that can help you rest easy at night.
Questions to Ask Yourself
Before you buy a sleeping bag, you need to consider how and where you'll use it. Here are some questions to ask yourself, to be sure you're getting into the right bag.
When will you be camping?
Buy camping sleeping bags for the coldest temperature you might face. But don't go overboard—being too hot can be uncomfortable too. Look for the temperature rating when you're making your selection. Generally, 2–3 lbs of fill is suitable for the summer months. For colder weather, choose one with 4–6 lbs of fill. If you tend to get cold, purchase a sleeping bag with rated for 5º to 10º colder temperatures than you think you might need.
How will you carry your sleeping bag?
If you're a car camper, weight and packed size probably won't be an important consideration for you. But if you're biking, backpacking or canoeing, you'll want to look for a lightweight and compact outdoor sleeping bag.
Suitable for summer camping, RV and indoor use
6° C (42° F) or warmer
Suitable for spring and summer camping, backpacking, RV and indoor use
0° to 5° C (32° to 41° F)
Suitable for spring, fall and winter camping
-1° to -5° C (23° to 31° F)

Suitable for fall and winter camping

For extreme cold weather sleeping bags, please consult a Sales Associate

-6° C (22° F) or colder
The Importance of Sleeping Bag Shape
The shape of sleeping bags aren't about fashion – it's function. The right shape can keep you cozy on even the coldest of nights.
| | |
| --- | --- |
| | Rectangular bags are ideal for general family camping and are the most versatile. The rectangular shape is roomy and comfortable. These bags can be used as a blanket or duvet when unzipped and can generally be zipped together with another similar bag with a compatible zipper. |
| | Tapered bags are wide in the shoulders and narrower at the feet. This makes them warmer, as there is less air space in the bag. Tapered bags are usually slightly larger than rectangular bags. Great for active and serious campers looking for more warmth. |
| | Mummy bags are warmer and lighter than rectangular and tapered bags and usually include a hood. Meant to fit snugly to the body and to move less with the user. Ideal for serious campers who might face extreme weather conditions. They are also usually more compressible and take up less space than other bags. |
| | Barrel or Hybrid bags are narrow at the feet and wider in the middle, these bags provide the warmth of a mummy bag but the roominess of a rectangular bag. |
Sleeping Bag Features
Look for these features when comparing sleeping bags. Depending on how you plan to use your bag, you may consider these important or simply a nice added touch.
Outer Cover Material – The majority of sleeping bags are made with a polyester outer shell. Some bags use a heavy cotton which is durable but adds bulk and weight.
Inner Liner Material – Lower–priced bags generally use a polyester lining similar to the polyester outer shell. These are lighter weight and cooler on the skin. Some bags use cotton flannel which is durable, warm and comfortable.
Full–length Draft Tube – More premium, colder rated bags may have a draft tube that protects the user from drafts through the zipper. The insulated flap runs the entire length of the zipper, down the side and across the bottom.
Quilted Construction – By sewing the inner lining and outer shell together, the fill is secured, preventing it from shifting or bunching. The disadvantage of this type of stitching is that there is no fill along the stitched–through line, and cold spots can result.
Offset–Quilted Construction – Used on more premium bags, this method provides the benefits of quilting but uses a double layer of insulation with each layer being stitched to the outer using offset stitch–lines. This means the stitching does not go through the entire bag and therefore does not create cold spots.
Zippered Vents – Some bags will have zippered vents along the side or near the foot box to allow you to regulate temperature and allow air circulation.
TIP: Using a Sleeping Bag Liner can improve the warmth rating of your sleeping bag. It also keeps your sleeping bag clean and can be washed much more easily than your bag. You can also use these liners as a lightweight sleeping bag on their own on warmer nights. Buy the appropriate shaped liner to match your sleeping bag.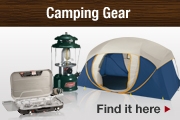 Related Buying Guides
Related Tools