Humidifiers Buying Guide
Combat the effects of dry winter air
A humidifier can help you enjoy a healthier home environment. Medical experts have established that the most comfortable and beneficial humidity level in your home should be between 35% and 55%. Maintaining the optimal level of humidity makes your home feel warmer and reduces the need to turn up the furnace. This could mean savings in heating costs for you.
Here are a few steps to help you choose the right humidifier.
Determine what your needs are: relieve dryness in your home, or soothing comfort for cold and flu symptoms?
Know the size of room you need covered. The packaging will tell you what area the humidifier will be most effective for. The larger your room, the more humidifier output you need. "Output" is defined as the amount of moisture a humidifier puts into the air in a 24-hour period.
Types of humidifiers
Warm mist
Boils water in order to produce a warm mist (steam)
Adds warmth to the room
Allows use of medicated inhalant
No filters
May require mineral absorption pads to reduce scale build up
Cool mist
Produces refreshing cool moisture using fans to evaporate water
Evaporative technology requires filter; some of these humidifiers have permanent washable filter
Moistens dry air and adds cool mist to the room
Does not allow use of medicated inhalant
Vapourizers
Recommended for easing cold or flu symptoms
A type of warm mist humidifier
Allows use of medicated inhalant
No filters
Often includes a night light for safety
Ultrasonic
Produces a visible mist
Comes in warm and cool mist alternatives
Has quiet operation
No filters
If used with hard water, may need the regular use of a mineral cartridge for optimal performance
Important Features
There are several features that may be important to consider when selecting a new humidifier:
Humidistat: A humidifier with a humidistat allows you to set the level of humidity to the level you desire.
Germ-free: Some humidifiers have a built-in ultraviolet light technology that eliminates up to 99.9% of bacteria, mould, funguses and viruses in water.
Maintenance Tips
If you have a cool mist humidifier, check and replace your filter/pad every few months
Consider the use of bacteria or scale treatment products to make cleaning easier. If you have a warm mist humidifier, there are no filters to replace but it may require mineral absorption pads to reduce scale build-up from hard water
When not in use, always empty the water from the tank to avoid stagnant water than can be smelly and breed bacteria.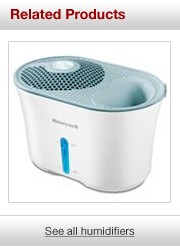 Related Buying Guides