Garden Centre Grow Your Own

When you have the right plants and equipment, it is easy to grow your own healthy, flavourful fruits, vegetables and herbs. Whether you start from seed or starter plants, we have everything you need to prepare, plant and care for your edible garden, including Soil and Fertilizer, mulch, gardening tools, cages, watering equipment, and insect control. We make it easy for you to enjoy the process and to ensure your success.
Easy steps for Success:
Use quality soil in your bed or container.
Leave enough space for your plants to breathe, and be ready with stakes and cages.
Organize your watering system so it is easy and accessible.
Feed your plants with quality plant food.
Mulch to retain water, deter weeds and keep your soil loose.

Print out this handy checklist and take it with you to the garden centre

Grow Better tomatoes
Tools for the Job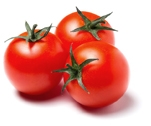 Tomato Plants
Gardening Gloves
Manure
Tomato Cages
Trowel/Shovel
Tomato Plant Food
Mulch
How To
1. First you need to decide what type of tomatoes you want to grow. Check on the tag or package to see if the variety is "Determinate" or "Indeterminate". Determinate tomatoes grow bushy to a fixed, mature size and then ripen all at once - ideal if you are using your tomatoes for canning. Indeterminate tomato plants are more vine-like, with fruit ripening a few at a time over the season - an excellent choice if you plan to use your tomatoes in salads throughout the late summer.
2. Choose a sunny spot for your plants. Place tomato plants in a site that will receive full sun (7 hours or more each day). It's a good idea to have two plants for each member of the family who will eat tomatoes.
3. Tomatoes demand a growing medium rich in organic matter. Prepare the garden bed by adding manure to the soil. Turn manure into the top 3 inches (6 to 8 cm). If you live with little ground space or only a porch, plant tomatoes in a planter 18-24 inches high, about 15-20 inches wide.
4. Space tomato plants 18 to 36 inches (45 to 90 cm) apart. Plant the tomato deeply. Bury about 75% of the plant. It's okay to bury some of its leaves. New roots will emerge along the buried stem, giving the plant a development boost; a new transplant needs to focus on root production
5. Give each plant about 4 litres of warm water within ten minutes of transplanting to avoid transplant shock. Continue to water well each day for the first week.
6. Mulch to control weeds and keep the soil moist during dry weather. The mulch should be about an inch (2.5 cm) thick and at least 12 inches (about 30 cm) in diameter around the stem. Pine needles are especially good for helping raise the acidity of the soil. Ensure that plants are receiving 1 to 3 inches of rain weekly. If not, give each plant 3 or 4 litres twice a week. It's okay in hot or dry weather to water even more frequently with larger volumes.
7. Use a tomato cage to support the tomato vine about 14 days after transplanting. Carefully pull leaves and secondary stems inside the cage as the plant grows.
8. Tomatoes can grow very well organically, provided the soil is well-enriched with organic matter. If you do use fertilizers, try using half the recommended concentration using package directions, but fertilize twice as often.
9. Once flowering begins, shake your plants gently once or twice each week for about 5 seconds. This will increase fruit production by distributing pollen more evenly.
10. Watch for fruit to appear 45 to 90 days after transplanting. Tomato plants usually have small, green fruit to start. Fruit may be picked any time after it starts changing to its ripe colour and set on a sunny windowsill to ripen indoors. This will reduce the chances of it rotting on the vine or being eaten by a bird or squirrel. Tomatoes do, however, taste sweeter when ripened on the vine, so balance risk of threats versus taste.
Did You Know?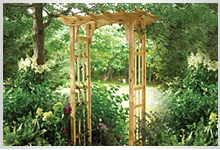 Plants grown vertically give you higher yield per soil footprint and are less susceptible to disease and insects.
See all Trellises and Arbours