Cat Care Guide

Every cat has his or her own personality. But whether your kitty is a cuddler or more of a casual observer, your cat relies on you to take care of all of its needs from meals and amusement to waste management. If you have a new feline friend in your home, you could probably use a few cat care tips. Cat care can be easy – especially when you have everything you need on hand. Canadian Tire has the cat foods, cat treats, cat litter and everything else you need to keep your cat purring with contentment.
This guide outlines all the things you'll need for a kitty-friendly home, and includes a helpful list. You'll learn about feeding your cat, including treats and special feeding needs, and about how to ensure your cat is comfortable with its litter.
The Kitty-Friendly Home
Your cat will become a member of your family. And, just as you have your own things, there will be some things in your home that are just for your cat. Here's a list of items you will want on hand to keep your cat happy and healthy, and to make your job as a pet guardian easier.
Cat Checklist
Feeding your Cat
Whether you have just brought home a new cat, or you're looking to improve your cat's diet, you'll want to select a cat food that is nutritionally balanced. Cats should not be fed "people food". They need special nutrients like taurine, and some everyday foods like onions and grapes can even be toxic to cats.
Cat foods generally fall into two categories, and while they have advantages and drawbacks, you may find your cat clearly prefers one to the other:
Wet Cat Food
Packaged in cans, cups or pouches, wet cat food can have the consistency of paté or chunks in "gravy". Wet cat foods are rich in meaty ingredients and typically provide more grams of protein per meal than dry foods. Many cats do not drink a lot of water, so serving wet food is an easy step you can take to improve hydration and aid in the maintenance of a healthy urinary tract.
The fresh aroma of wet cat food is something many cats appreciate, but that some cat owners may not. Wet cat food shouldn't be left to sit out all day. If your cat "grazes", you will need to put out several smaller servings throughout the day to ensure the food is always fresh.
Dry Cat Food
Dry cat food generally comes in bags. The crunch of the hard kibble cleans your cat's teeth and can help reduce plaque and tartar. It's less messy than wet cat food, and very convenient. You can leave dry cat food out all the time so your cat can simply eat when she is hungry. For cats on a diet, you can even purchase auto feeders that dispense a measured amount of dry cat food on a programmed schedule.
Some cats may not like dry cat food as much as wet cat food. Also, if you leave a bowl out, it may be difficult to keep track of how much your cat is eating. This can mean it takes longer for you to notice if your cat goes off its food, which can indicate or cause serious health issues.
Why not both?
Many owners like to indulge their cat's senses by blending wet and dry foods to provide a variety of flavours and textures. Whether it's something you do every day or as an occasional treat, this approach can offer the best of both worlds. Be sure to remember that proper hydration is important to your cat's health, so keep a fresh supply of water available to your cat at all times.
Cat Treats
There's a real pleasure in giving your cat a special little snack. While many cat owners don't realize that cat treats can be an effective tool in cat training, most will agree their cat comes running at the sound of their favourite treat pouch or tin.
More than just a delicious way to show your cat affection, many treats are formulated to help control tartar or hairballs. Some cat treats also include catnip.
Catnip
This special indulgence isn't a food. Catnip and its scent can cause a unique euphoric reaction in many cats – they roll around in, rub their face against or try licking or eating it. Not all cats will react to catnip, and a few cats will react negatively. Using a catnip-filled toy is a good way to easily limit the cat's exposure while still letting them enjoy it.
Special Feeding Needs
The right nutritional balance for your cat will depend on its size, weight and stage of development. Consider the following when selecting a food for your cat.
Cat Litter
When choosing a cat box filler or cat litter, you'll want to select a litter that will make both you and your cat happy. There are two main types of litter, and your preference will depend on how you'd prefer to maintain the litter box.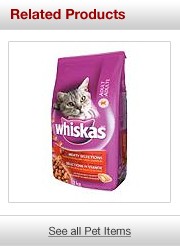 Related Buying Guides