Camping Stove & Camp Cooking Buying Guide
Whether you are planning a weekend getaway, or a big family camping trip, meals are important. Ensure you have equipment to cook those meals with a camping store from Canadian Tire. We have a wide range of options to choose from.
Factors to consider:
Camping stoves come in a variety of designs aimed at meeting the demands of different types of use. Camping stoves range from lightweight, single-burner models for backpackers to large, grill-stove combinations designed to provide home-away-from-home cooking facilities on family camping trips. When purchasing a camping stove, the key considerations include how you'll be using it (will you be cooking in pots, or directly on a grill?), number of people you will be cooking for and weather conditions
What type of cooking do you like to do?
If you want to do more than warm things up in a pot or frying pan, look for a stove with a built-in grill. It's a great way to expand your menu options.
Number of campers
Choose a stove with more burners if you are cooking for a large group or are planning to cook more complicated meals. There are single, double, and triple burner stoves and some units have a grill. BTU (British Thermal Unit) output is also an important consideration. The higher the BTU output, the hotter and faster the stove, which is an important consideration if you are cooking for a crowd.
Features to look for:
A carrying case will allow for easy transportation and storage
Auto-ignition can make lighting the stove/grill without matches or lighters easy
Wind screens, a food prep area, a drip tray, a griddle, or a built-in oven can also make things easier
The differences between camping grills and camp stoves
Grills
Food is cooked directly on the grill (think mini-barbecue)
Heat intensity can cause some cookware to melt if placed directly on the grill
Stoves
Stoves have individual burners designed to cook food using pots and pans
Grill-stove combos
For the best of both worlds, grill-stove combos take care of all cooking needs
Fuel
Different appliances burn different types of fuel and there are advantages for each type – so choose the stove and fuel that will work best for you. Factors to consider include burn time, burn temperature, temperature sensitivity and canister disposal. In addition, some campgrounds and other sites have rules about the type of fuel that may be used. Fuel choices include propane, naphtha (also known as Coleman fuel), butane and isobutane mix.
Fuel choice
Propane
Naphtha
(Coleman fuel)
Butane/Isobutane mix
Major characteristics
Convenient, clean-burning and easy to light. Most appliances can also be adapted to use larger refillable propane tanks.
Good overall performer, clean and easy to light. Fuel tank must be filled while attached to the appliance, which can be messier.
Convenient, clean-burning and easy to light. These stoves are usually compact and lightweight – ideal for hiking.
Weather conditions
Temperature-sensitive; designed for use only in temperatures above 0° C.
Reliable in all temperatures and weather conditions.
Butane: Temperature-sensitive; designed for use only in temperatures above 0° C.
Isobutane mix: Reliable in all temperatures and weather conditions.
Safe Usage
Store fuel canisters in a cool and dry place. If you are storing fuel tanks for several months or more, ensure the tanks are empty.
Check for leaks before lighting your appliance by examining all valves, fuel lines and connections.
It is dangerous to fill a fuel tank to the brim because fuel expands as it warms. By leaving some air space you will prevent excessive pressure build-up.
Fuel-based camp appliances require ventilation and should not be used indoors or in small, enclosed areas like tents. As they can reach very high temperatures, these products should be used with caution in the presence of pets or small children.
Remember to pick up…
Fuel
Camp cookware
Matches/lighter
Camp dishware
Utensils
Foil wrap
Oven glove
Barbecue scraper
Food storage containers
Coolers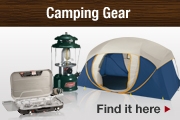 Related Buying Guides
Related Tools